An SRI Visitor Survival Guide
The main purpose of this page is to provide useful additional lodging/travel/cultural information for foreign visitors to SRI International, Menlo Park, CA, USA. However, most of the things here seem to be useful for anyone visiting Silicon Valley or even any part of the United States for some time.
I'm neither a professional advisor, nor have I lived here for very long (two weeks in 2000 and April-September 2001), so don't expect to find the ultimate truth here.
If you think there's something missing or incorrect, please let me know. Any kind of feedback is highly appreciated!
Contents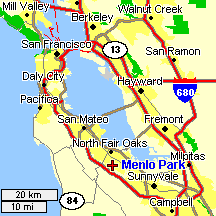 ---
How to find a place to live
It's always a good idea to ask the current visitors at SRI if they know about a room that is available. Maybe you can take over a room of a visitor who is leaving, or maybe there is a place you can stay at while you search for a room.

Good places to look for room offers are classifieds.yahoo.com, classifieds.bayarea.com, www.craigslist.org, the Usenet group ba.market.housing (available, e.g., via groups.google.com), the Stanford Community Housing Services (has the best selection, but is difficult to access; however, there is also a notice board in the students union on Stanford campus), and local newspapers (see the links listed at the end of this page). There is also a pin-board with some offers at the Staff Activities Building 108 of SRI.

In the following I'll just describe how I searched for a room; also have a look at the links listed at the end of this page.
About two weeks before my flight to California I started to look for room offers at www.craigslist.org, replied by email to some interesting offers, and put on a ``room wanted'' message myself. I got the best search results by choosing the complete Bay Area and using search keywords like ``Menlo Park'' or ``Palo Alto''.

I think shared housing is cheap and can be fun, and if you are lucky, you don't have to go through all this hassle about creditworthy checks.

During the 5 days I had to find a place to rent, I stayed at the Cardinal Hotel in downtown Palo Alto (235 Hamilton Avenue, corner Ramona Street, see map below). They have some rooms with a shared bath down the hallway for $70 + tax. And you can rent a nice wireless PCMCIA LAN card for Internet access from anywhere in the hotel, so I could continue my WWW-based room search and send/receive more emails.

I took the second shared-housing room I had a look at, just 2 miles from SRI, and so far I do not regret it. Maybe I was just lucky.
In April 2001 you had to pay about $700-$1200 per month for a shared-housing room, and apartment prices started at $1000 per month. Places outside Menlo Park and Palo Alto can be cheaper. Several people advised me not to look for a room in East Palo Alto for safety reasons, ask some local people about it.

Be prepared to pay the first and last rent as well as the deposit in cash, since you may not yet have a bank account and/or checks at the time you sign the contract!
Hotels
Have a look at this list and at this map. The Mermaid Inn (727 El Camino Real) is quite reasonable and within walking distance of SRI. Make reservations well in advance.
Transportation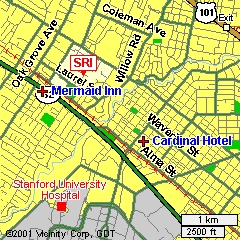 Important thing to do when you get here: buy a map with street index of Menlo Park and its surrounding cities (Palo Alto, Stanford, Atherton, Los Altos, Redwood City, Mountain View). Note that some maps do not have north on the top (like the hotel map above). Online maps are available at, e.g., www.mapquest.com.

Also important: get accustomed to the traffic laws. Keywords: traffic lights, stop signs, right turn on red, colored curb stones ... Have a look at www.caldrive.com, DMV information for persons new to California, and the California Driving FAQ.
Car
I recommend renting a car for the time you search for a place to live. Renting may be cheaper if reservation and payment is done in your home country. If you are under 25 it may be difficult to rent a car. SRI has a corporate deal with National Car Rental, you might want to make use of this. (The corporate deal seems to be possible for business trips only.)

After that, the need for a car depends on your traveling plans. If you buy a car, you need to pay taxes, insurances, and after 6 months (not sure if this is correct, I heard that it could be after only two weeks) you will need to obtain a California driving license. Make sure that your insurance is valid with your (foreign) license. Try to take the online sample driving test.

You are not allowed to drink & drive, but you are asked to show a driving license if you want to buy alcohol.

If you find a place near SRI, you can commute to work (like I do) by bike.
Bicycle
Buy a used or new bike, or rent a bike, all types (city, mountain, racing) seem to work well in this area. A strong lock is mandatory. Many roads have bike lanes. Only few people seem to use a bike on a daily basis; many more can be seen on weekends (for fitness and/or ``Hey, look at my fancy bike/outfit!'' purposes).

The Campus Bike Shop (551 Salvatierra Street, Stanford Campus) has a good selection of used bikes. Menlo Velo (433 El Camino Real, Menlo Park) has new and rental bikes.
Public transportation
Check out www.transitinfo.org for public transportation in the Bay Area. The situation is not too bad; the only real drawback for me was that there is absolutely no way to leave San Francisco southbound after midnight, not even on weekends. Please tell me if I'm wrong.

The Caltrain connects San Francisco and Gilroy via San Jose and stops just a 5-minute walk away from SRI. Trains leave about every 30 to 90 minutes from 5 a.m. until midnight. Tickets are cheap: Menlo Park to San Franciso, one way: $3.75 (July 2002). There is a free airport shuttle bus between San Francisco International Airport and the Caltrain station at Millbrae.

You can take your bicycle with you on Caltrain without an extra fare. You have to use the designated bicycle storage space in the northern-most car (the one closest to San Francisco), noted by yellow paint on the platforms.
Social Security Number
It's a good idea to get a Social Security Number (SSN), which proves your existence and is needed, e.g., to apply for a credit card or insurances. Getting it is free and easy. Go to www.ssa.gov and download application form SS-5 or call 1-800-772-1213. Take the completed form and the additional documents needed (usually your passport and visa documents) to a Social Security Office. The nearest offices are in Redwood City (2121 Broadway Street, near Jefferson Ave) and in Sunnyvale (438 S Murphy Ave). Use the Office Locator to get travel directions and opening hours. You get your Social Security Card after about two weeks.

Update: It is no longer possible to get an SSN without permission to work or study here - holders of B visas as well as the families of people here on non-immigrant visas do not qualify. Instead you get a Taxpayer Id Number which you can use more or less as an SSN. But you get it from a different place - a tax office.
Money-related things
The usual way for paying bills (e.g., rent, telephone, cable TV) is by sending a check. Therefore, you should get a bank account and checks as soon as possible.

Ask some locals about the usual way of tipping waiters, maids, etc.
Bank account
I opened a checkings and a savings account at the SRI Federal Credit Union, which is located at the basement of the Main Building A of SRI. After about 1-2 weeks, you get an ATM card and a lot of checks. It seems to depend on the mood of the people working there if you need to have a Social Security Number to get an ATM card and checks.

Some banks (e.g., Wells Fargo) have bill pay websites that let you pay your bills that way. (Basically, they write and send the check, which is very convenient.)
Credit card
All the major credit cards are accepted almost anywhere in shops, restaurants, gas stations, etc. For some payments on the Internet or over the telephone, a credit card billed to a U.S. address is needed. This can be one of the reasons why you might want to get another credit card. The SRI Federal Credit Union offers one, it takes about two weeks to get it. You definitely need to have a Social Security Number to get a credit card.
Cash
A nickel is 5 cents, a dime is 10 cents (the coin just says ``one dime'', how stupid). Just guess what a quarter is. The dollar bills all look the same at first sight and are said to be the world's easiest-to-counterfeit money.
Shopping
Food: Safeway (525 El Camino Real, Menlo Park), Trader Joe's (720 Menlo Avenue, Menlo Park). Coffee/Tea: Peet's Coffee & Tea (899 Santa Cruz Avenue, Menlo Park). Computer/TV/HiFi/Electronics: Fry's (340 Portage Avenue, Palo Alto).

Almost everywhere the prices shown on signs, menus, etc. do not include taxes.
Telephone
It can be expensive to make long distance and international calls from pay phones or hotels, and also from your home phone. Use a dialaround service such as www.onesuite.com or (less good) www.bigzoo.com. You buy so many dollars with your credit card over the net, then call an 1-800 number, key in a code, then the number you want. 2.9¢ a minute in the U.S., 5¢ to the UK, 5.9¢ to France and Germany, 7.5¢ to Australia (onesuite.com prices as of May 2001). If you don't have a credit card, maybe a colleague will pay for you in return for cash.

You can also buy physical prepaid/rechargeable phone cards in pharmacies, grocery stores etc. that work the same way but at about 2-4 times the cost.
Time and date, units, numbers
A 12-hour clock is used; from midnight to noon with the suffix ``a.m.'' or simply ``a'', and from noon to midnight with the suffix ``p.m.'' or ``p''. Writing ``12:00'' is often avoided by saying ``noon'' or ``midnight'', or by shifting to ``11:59'' or ``12:01''.

Dates are written in the format ``MM/DD/YY'', so ``May 9th, 2001'' will be written ``05/09/01'' or ``5/9/01''. If the correct interpretation is really important, use a 3-letter abbreviation for the month.

I hope some day all world will be using ISO 8601 for date and time notation.

Length units: 1 inch = 2.54 cm, 1 foot = 12 inches = 30.48 cm, 1 yard = 3 feet = 91.44 cm, 1 mile = 1.609 km.

Volume units (liquids): 1 fluid ounce = 29.6 ml, 1 pint = 16 fluid ounces = 0.473 l, 1 quart = 2 pints = 0.95 l, 1 gallon = 4 quarts = 3.785 l.
[Note to UK/Canadian visitors: 1 British fluid ounce = 28.4 ml, 1 British pint = 20 British fluid ounces = 0.568 l, 1 imperial gallon = 4.55 l, so U.S. pints and gallons are about 4/5 of UK pints and gallons.]

Mass units: 1 ounce = 28.35 g, 1 pound = 453.59 g.

Temperature units: x °F = (x-32)/9×5 °C.

I hope some day all world will be using the SI units.

Be careful when writing numbers by hand, e.g., when giving away telephone numbers or filling out forms and checks! The hand-written digit ``1'' is just one vertical line (with the extra stroke on top it may be confused with a ``7''), and the ``7'' has no middle horizontal bar (with this bar it may be confused with a ``4''). The ``4'' might also differ from the shape you use.

Thousands are grouped with a comma, and the decimal point is ``.'': One million dollars is written ``$1,000,000.00''. And a U.S. billion is 109, not 1012.
Other useful resources
Check them out, they are very useful! More useful pages you found? Tell me!
Acknowledgments
I thank the following people for contributions to this page: Magnus Almgren, Francesco Bellomi, Felix Klaedtke, Mohamed Layouni, John Rushby, Victoria Stavridou, Dave Stringer-Calvert.
Disclaimer
You are responsible for anything you do with the information provided here. I cannot guarantee the correctness of anything stated above.
---
Ben Lukoschus (ben@lukoschus.de) Last modified: 2003-05-14 14:42:01 MEST (+0200)
Maps © Vicinity Corporation.