---
Travelog
Las Vegas, California, New York City
June/July 2000
---
The Flight from San Francisco to New York City
This page describes the flight across the United States from San Francisco to New York City.
---
Tuesday, July 11, 2000 (San Francisco, New York City)
04:53 Wake-up call. I get up, take a shower, collect my stuff, and put it in the car.

05:30 I drop the room key at the office. The ``No Vacation'' sign is lit. Wow, even such a place like this is full. Then I start my last drive. How strange, there are no traffic lights above the lane I use. Then I notice that I am on the wrong side of the road. Lucky me, there's not much traffic, so my error is not fatal.

05:37 [1177] I arrive at the Hertz rental car return garage. Within two minutes, everything is finished. I put my luggage on a cart (never done that before), and go to the shuttle bus to the terminals. The waiting time there is also minimal, and the bus takes me to the Northern Terminal E.

05:58 I line up at the American Airlines counter.

06:15 Okay, my luggage is on its way (I hope), and I have my boarding card.

06:18 My hand luggage is checked, and in a tiny moment of tiredness I forget to mention that there are photographic films in both my camera bag and my suitcase. I hope it will be okay, but I will be sure about this in a week.

06:21 I arrive at Gate 63, and have plenty of time to continue typing my travel report. I am two days behind, so I have to catch up.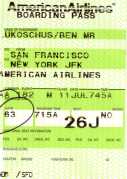 07:14 Boarding time.
08:04 Takeoff flight AA 182 to New York JFK International Airport. The plane is a Boeing 767-200.
08:22 Above Reno, I write a postcard.
08:36 Breakfast is served. Something called ``French Toast'' with syrup (I'm pretty sure that this has no relationship to France), tea, water melon, and a nonfat yogurt in a gloomy pink color (or, as the ingredient list says, red #40). I write another postcard. A film is shown on the screens, but headphones cost $5, and I know how bad the sound is, so I just watch from time to time.
10:29 Turbulences. Fasten seat belts.
13:36 (EDT) I just advanced my watch by three hours to the local time of New York. More turbulences.
14:47 Lunch-in-a-box. Crackers & cheese, chocolate muffin, an apple.
15:43 Touchdown at New York JFK International Airport. Ten minutes later I wait at the baggage claim.
16:10 I got my luggage. Now I need to get to 31st Street in Manhattan. There are many ways to get there, and I decide to take a slow but cheap and interesting one.

16:38 I take the free airport bus to Howard Beach Subway Station. There I buy a 7-day MetroCard for buses and subways. Then I take express subway A, direction Manhattan.
17:22 I spot the two towers of the World Trade Center. Since I'm still in Brooklyn, they must be quite big.
17:55 I change trains at West 4th Street. Now subway Q, north.
18:01 I get off at 34th Street, Herald Square. The first building that catches the eye is the Empire State Building. Big one.
18:14 Since I have a reservation for the upcoming four nights, the check-in at the Herald Square Hotel, 19 West 31st Street, goes flawless.
---
---
Ben Lukoschus (ben@lukoschus.de) Last modified: 2002-05-04 15:00:31 CEST (+0200)