---
Travelog
Las Vegas, California, New York City
June/July 2000
---
New York City
I spent four days in New York City.
---
Tuesday, July 11, 2000 (New York City)
Lisa Simpson: ``Dad, you got a letter from the city of New York!''
Homer Simpson: ``Pfft. Throw it away. Nothing good has ever come out of New York City.''
The Simpsons Episode 4F22 ``The City of New York vs. Homer Simpson''

18:16 The Herald Square Hotel is the former home of ``Life'' magazine; and throughout the hotel, covers of that magazine of the last 100 years are hanging on the walls. In comparison to the hotel rooms I stayed in during the last days, Room 520 here is really small, about 2.5×3 m. But that's okay, since the room is cheap, at least in New York City scales. And there is an in-room safe, which is very nice. And, of course a TV. The bathroom is shared.

18:48 I have a look around and walk up Broadway to Times Square. Impressive, and the walkways are crowded with many different people. On my way back I fetch two slices of pizza and a coke, not cheap, but very good.

19:41 A four-story building explodes in Brooklyn, three people are killed. Other news of today: several men have been attacked by a masked man in Prospect Park during the last two weeks, a 25-year-old woman was hit with a chunk of concrete by a stranger, and there are reports of armed robberies in Central Park. An average day in New York City, I suppose.

19:55 Back at my room, I relax a bit.

22:30 I walk out again and explore the streets nearby. I get some cash from an ATM machine and buy something to drink: one gallon (3.78 l) of water, and one liter of orange soda. On the way back I pass the Madison Square Garden, which is surrounded by police. Maybe they just make sure that no one does park in ``no parking'' areas.

01:02 I use the computer in the lobby to connect to the internet and to read my email at Kiel. The terminal emulation is very bad, the cursor keys do not work. A nice thing however is that one can save unused but pre-paid online time. An access number is displayed as I close the connection. I quickly fetch a pen from the front desk and start writing down the number, but it disappears too fast, and I do not get the last three digits. I hate computers. At least if they are not mine.
Wednesday, July 12, 2000 (New York City)

10:11 I get up rather late and take the subway to the very south edge of Manhattan Island. There I wait for the next ferry to Staten Island. A hand-written sign at the closed ticket office tells how much a pedestrian has to pay: nothing.

12:35 The Staten Island Ferry leaves. As the sign said, there is no fare (at least for pedestrians), and thus you get a nice view on the Statue of Liberty, the harbors, and the buildings of Downtown Manhattan, for free.
13:00 The ferry arrives at Staten Island. I'm not very interested in the places you can go there, so I just buy some pizza and a phone card.
13:33 The ferry back to Manhattan leaves Staten Island.

13:55 Back on Manhattan Island, I go to Battery Park. There the East Memorial honors the American Soldiers who died in World War II.
14:12 Also located at Battery Park is Hope Garden. A sign reads: ``The Hope Garden is dedicated to those living with HIV and AIDS, and to the memory of those who have died.'' The park was planted in 1988 and enlarged in 1992.

14:23 Walking up Broadway, I have a look at Trinity Church, a Gothic building finished in 1846, which actually is version 3 of the building. The first, built in 1698, was destroyed in the Great Fire of 1776. The second was built in 1790 and demolished in 1839.

14:40 I go to building two of the World Trade Center (the big one without antennas on top). Instead of buying a single ticket, I take the CityPass, which contains tickets for the World Trade Center, the Museum of Modern Art, the American Museum of Natural History, the Empire State Building Observatory, the Intrepid Sea-Air-Space Museum, and the Guggenheim Museum. Here at the World Trade Center, there is a very long queue, but I expected that.
14:56 Security check. Still a long queue in front of me.
15:26 Finally, I'm in the elevator,

rushing up to the 107th floor in one of the 23 express elevators.
15:38 A simulated helicopter ride is also included in the ticket price. Nice, but not overwhelming.
15:45 The 107th floor is still not the roof, so I walk up a few steps, and there we are: the 110th floor, roof deck. Great view! I enjoy the sight and take lots of pictures. There is some smoke emerging from some spot far in the east.


16:30 Going down.

17:00 I'm at the NBC Studios at the GE Building, Rockefeller Plaza. I buy a ticket for the studio tour.
17:15 The studio tour starts. Quite similar to the NBC tour at the Burbank Studios in California. I see the sets of the Rosie O'Donnell Show, Saturday Night Live (where the audience seats are actually taken from the Yankee Stadium), Access Hollywood, and Later Today. The last one has a background projection of a live camera out on the street.

Since NBC does not want to face unexpected happenings on the street, the actual live video feed is delayed by 7 seconds. If something happens that the home audience should not see, the live feed is replaced by a pre-recorded feed. This 7-second delay was and is actually done in some (pseudo-)live shows, especially when a guest known for the use of explicit words is invited.
18:00 The tour concludes with a Panasonic HDTV presentation. And I check that my information is correct how to get tickets for the Late Night Show with Conan O'Brien. I either have to send a postcard and wait (this option I don't have anymore for this week), or I can try to queue up tomorrow at 09:00 to get a ``standby ticket'', that is, I might get a seat if a regular ticket owner does not show up.

At Rockefeller Plaza, at the main entrance of the GE Building, there is a huge flower puppy.
18:11 I take a peek into St. Patrick's Cathedral. What strikes me is that inside there is the national flag hanging down from the ceiling. Odd, at least in my eyes.
19:00 As I walk back to the hotel, I walk past the famous Radio City Music Hall.
20:00 I'm lucky: the Simpsons special ``Behind the Laughter'' (the title is a spoof of VH-1's ``Behind the Music'' series), which has not aired in Germany yet, is shown on Fox (more precisely, on the local affiliate WNYW). Good show.

21:07 In the men's room at the hotel, I got company: a roach.
Moe Szyslak: ``We're working on that roach situation, I swear to God.''
The Simpsons Episode AABF05 ``Mayored to the Mob''

21:09 I go out to find a decent movie theater. Near Times Square at the Loews theater I buy a ticket for the 23:00 show of ``Mission Impossible II', which has been running here since end of May. Since it is quite early to stay here all the time, I go back to the hotel again.
22:40 Back again at Loews, I occupy the best seat in cinema 10, which is completely empty so far. First some movie previews are shown. Promising for this summer seem to be: ``Scary Movie'', ``Coyote Ugly'', ``Loser'', and ``X-Men''.
23:10 As the ``Mission Impossible II'' starts, no more than 15 people have gathered. An average movie, somewhat James-Bond-like.
01:13 Fin. I go back to the hotel.
Thursday, July 13, 2000 (New York City)
07:35 I get up quite early, since I want to get one of the standby tickets for the ``Late Night Show with Conan O'Brien''. By the way, today is the 15th anniversary of the ``Live Aid'' concerts for Africa.

08:30 I queue up at the NBC studio entrance at 49th Street. The weather is cloudy, but nevertheless nice and warm. Half an hour later, I get a standby ticket. Is is number 33, so if at least 33 people with regular tickets do not show up, I can get into the taping of the show.

09:15 Time for breakfast, hot tea and a muffin at 53rd Street, near the Museum of Modern Arts (MoMA).

09:32 Hmm. The MoMA opens at 10:30. So I take a look at the Trump Tower, which is nearby. Inside there is a waterfall going down several stories, very nice. There are several fashion and jewelry shops here, and a Tower Records store. Next to the tower is Tiffany's.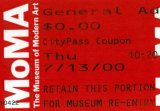 10:30 I dive into the MoMA art exhibitions. The wide selection of pictures, photographs, sculptures, and other pieces is overwhelming.

12:32 Stepping outside again, I notice that some employees of the MoMA are on strike, they want more money.
12:52 I walk past Carnegie Hall, known for the best acoustics in town, but there's not much to see, since extensive repair works are in progress.

13:00 I walk through Central Park, the heart (or lungs) of Manhattan. I buy a hot dog and watch some

baseball/softball games. Some teams of the ``Broadway Show League'' are playing.
13:35 I take Subway R back to the hotel.
14:00 A local TV station reports that there was a partial building collapse in East Village. Lots of antiques have been stored there, and they seem to have been too heavy.
15:06 Going back to NBC studios, I notice (not for the first time) that dozens of life-size cow statues are placed all over Manhattan. This is the Cow Parade project.
15:55 At NBC studios, I wait in the queue of people having stand-by tickets. It turns out to take a long time until I know if I'm in or not.
17:00 Yes, I made it! And there were only three people behind me who made it into the show. On the way up into the studio, Rebecca Romijn-Stamos, Conan's first guest today, rushes by, surrounded by bodyguards and photographers. Now I sit in the second last row, at the very left seat. The studio is not very big (about 150 people in the audience), so I have a good view on the stage. And TVs are everywhere anyhow. Taking pictures is not allowed in the studio.
17:07 Some motivating guy comes in and talks at bit with the audience.
17:23 The band is introduced (The Max Weinberg Seven, today without Max), and they play two songs, swing/jazz style.


17:28 Conan O'Brien enters the studio, throwing some warm-up jokes into the crowd. Some guy in the audience asks if he may hold up a sign during the show, carrying a congratulation to a friend's wedding. Conan agrees, but he's not happy with that. Then the band plays two more pieces.
17:41 The taping begins, and the show starts, as usual, with the

introduction by the band and the announcer Joel and Conan's stand up monologue reflecting the latest news events. After the monologue, Conan sits down behind his desk and first allows the above mentioned sign to be shown, but not without a bit of criticism:
Conan: ``Hey buddy, why couldn't you get on the ``Today Show''? That's my question. That's the show with the signs. We don't do that -- he probably doesn't even like this show. [...] Why not the ``Today Show''? That's what they do: they encourage people to come with their signs.''
Guy: ``I just wanted to see you, Conan.''
Audience: ``Ooooooooooh...'' [applause]
Conan: ``I was going to have security beat that man, but I'll wait till after the show. Cause that's the kind of guy I am.''
Today's guests are Rebecca Romijn-Stamos (presenting her new movie ``X-Men''), Marc Maron (announcing this new show ``Jerusalem Syndrome'' at the Westbeth Theater Center), and Greg Hahn, a Canadian stand-up comedian (actually not very funny). Summarizing, a great show, with good dialogs, and Conan is at his best making a fool of himself.

Rebecca Romijn-Stamos talks about her experiences during the making of ``X-Men'', especially the

problems with getting off the blue makeup.
The most interesting thing I notice is that there are so many people on the stage in off-camera areas, more than I expected. And during the commercial breaks, when the band is playing, there are even more people, running around in some ant-like fashion. But the stage manager has everything and everyone under his control.
18:40 The show is over, and after a few closing words by Conan, I'm back on the street and in real life. The recording is now edited (they will not throw out very much, because they only have taped 59 minutes), and it will be broadcast nationwide tonight, starting between 00:30 and 03:00, depending on the program schedule of each local TV station.
19:37 I'm back at the hotel, with a Whopper menu. Not as good as a Big Mac menu.
00:40 The Late Night Show with Conan O'Brien is shown on TV. Again, a good show.
Friday, July 14, 2000 (New York City)

10:21 I get up. There is some rain announced for today, but I neither have a raincoat nor an umbrella.

11:25 I'm in the Empire State Building. It's a bit difficult to find the way up.

11:53 The elevator goes up to the 80th floor, and a second one further up to the 86th floor. Unfortunately, the floors above are closed for repair work. So no sky deck today (is there one?). Someone in a King Kong costume is running around, amusing the kids.


12:33 The first six floors I walk down the stairs, and then I have to take the elevator down.

13:08 Tea and a broccoli/cheese croissant at the corner 49th Street/6th Avenue. Many people are sitting here, having lunch. A cow is swimming in a pool.
13:26 I take Bus M50, west to the Hudson River. The bus is very slow in the heavy traffic, not faster than walking. But it starts to rain, so taking the bus was not a bad idea. Even a thunderstorm rises in the distance.

13:46 I have a look at the Intrepid Sea-Air-Space Museum, consisting of the decommissioned US Navy aircraft carrier Intrepid, the submarine USS Growler, and the destroyer USS Edison. Many military artefacts are shown here, and also an exhibition of NASA's space missions (earth orbiter and moon missions), in which I am more interested in than in the more war-making related stuff. Actually, the Intrepid was used quite often to retrieve the returned capsules of the 1960's NASA missions. I do not visit the submarine, since the queue there is too long.
14:59 Leaving the museum, it is quite difficult to get back to some subway line. And the buildings here are mostly private homes or car repairs. A strange place to be, and no tourists around.
Homer: ``Now remember, criminals prey on small town folk like us. So if anybody asks, we're sophisticated millionaires from the Ozarks.''
The Simpsons Episode 4F22 ``The City of New York vs. Homer Simpson''
Luckily, at least the rain has stopped.

15:25 Finally I reach the subway at 50th Street/6th Avenue.

16:10 I have a look at the Solomon R. Guggenheim Museum. The main building consists of a spiral walkway going up 6 floors. So you do not need to take any stairs when looking around there.

One interesting thing is a collection of short films by Thomas A. Edison, Inc., documenting the ``Exposition Universelle'' in Paris, July 1900. It's amazing when you think about the fact that these films are now 100 years old. And I also spot a painting with some cows.
17:15 I leave the museum and walk through Central Park, along the Jacqueline Kennedy Onassis Reservoir.

17:35 The last museum I visit is the American Museum of Natural History, which specializes in showing animals from all over the world (behind each of many large windows there is a typical landscape of a particular region, together with life-size (but lifeless) animals), and giving descriptions of the world's different cultures. There are also some well-made astronomy and geology exhibitions.
18:40 I take Subway C downtown.

19:13 My travel guide says it's nice to walk across Brooklyn Bridge, and so I do. On the other side, in Brooklyn, it is again difficult to find a subway back to Manhattan, this time I do not have a precise map, and it's getting dark. Any minute I expect a subway station to come into sight.
Homer: ``Oh, all right. But not a minute later cause when the sun goes down all the weirdos turn crazy.''
The Simpsons Episode 4F22 ``The City of New York vs. Homer Simpson''
With a bit of walking and careful map consulting, I manage to return to Manhattan.

20:40 Back at the hotel, I relax a bit.

21:35 Leaving my camera in the safe, I have a look at Times Square at Friday night. It's incredibly crowded on the streets. I walk around and see which musicals are playing right now: Cats (until beginning of August), The Lion King, Jesus Christ Superstar, and many, many more. I have a look at a cinema showing ``X-Men'' which started today, and, as I expected, not a single seat is available for any of the shows. I also take a look at the dance club ``China Club'' (268 West 47th Street), but an entrance fee of $20 is too much, I think, and so the look I take is just from outside.

23:59 Hot Chocolate at Starbuck's.

01:00 Back at the hotel. Getting there was difficult, because some subway lines were closed. And so I walked most of the distance. It was also difficult to find something to eat which was not McDonald's, so I consume my last candy bars.
Saturday, July 15, 2000 (New York City)
10:22 I get up, take a shower, and pack my bags. The latter takes quite some time, even though the volume of the room did not allow to expand my luggage very much. Outside heavy rain.

11:58 Check-out. When I booked the hotel some weeks ago, I thought it was expensive. But if I compare it with the prices in California, this is okay. Since it is still raining, I decide to take a bus shuttle to the airport instead of taking subways. I have to be back at the hotel at 14:00 to board the shuttle.

12:08 I put my luggage in a locker, and head for Times Square one last time. The rain has become thinner. Nevertheless, those people who were selling sunglasses on the streets yesterday are now offering umbrellas.

12:26 For breakfast/lunch I buy two thick slices of pizza. I have a look here and there, e.g., the first time at the Times Square Visitor Center. As I want to take a quick look at the famous renovated Grand Central Terminal, I am again faced with closed subway lines. I (and many others) even have difficulties to get back on the street, since also some exits are closed. Very stupid. So I don't make it there, giving me a reason to come back here some time.

13:19 In heavy rain I run back to the hotel, buying a big cup of hot tea on the way. And, finally, I take a picture of the hotel front.
13:43 At the hotel I consume the tea and have a last look at my email.
---
---
Ben Lukoschus (ben@lukoschus.de) Last modified: 2003-10-22 13:08:56 MEST (+0200)